Introducing Engage Video Marketing (and
Ben Amos

!)
If you're looking to differentiate yourself from other videographers and run a more impactful and profitable business – I'm the guy to help you do it.
With over $5 million generated for video business owners like you, I'm here to show you how to sell your video production services by selling proven video strategy frameworks that get results, attract repeat clients, and unlock financial freedom.
*Warning: Highly effective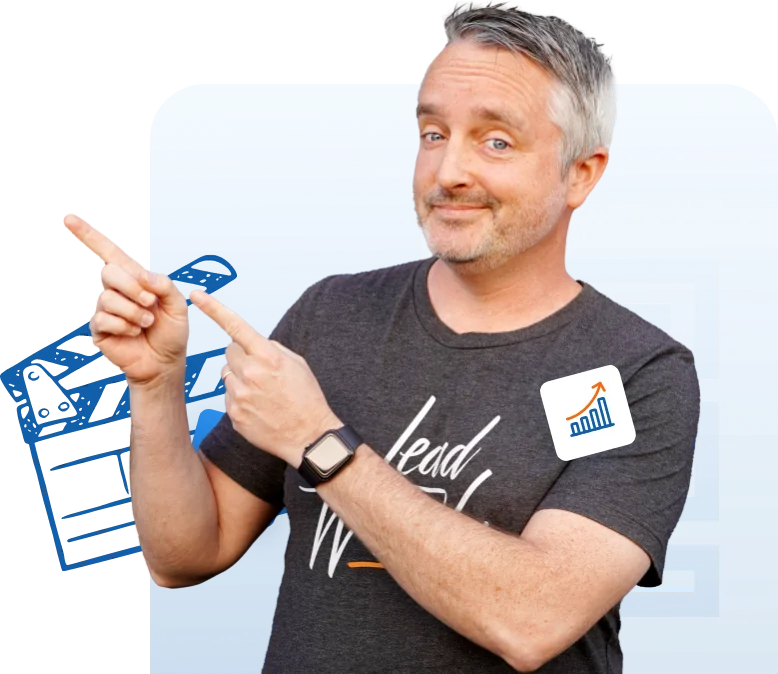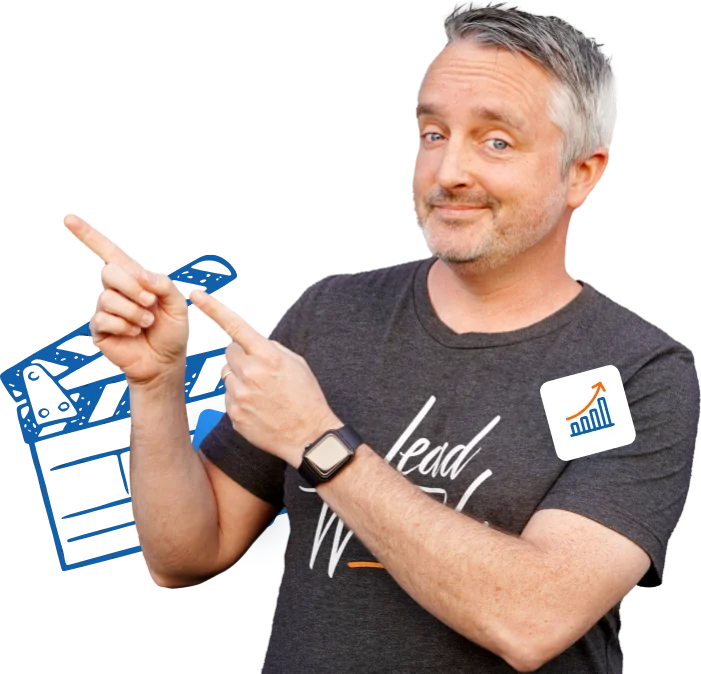 15+
Years of experience in the film and media industry
150+
Graduates of the Video Strategist Masterclass (VSM)
250,000+
Engage Video Marketing Podcast downloads
$5 Million
Generated for video production businesses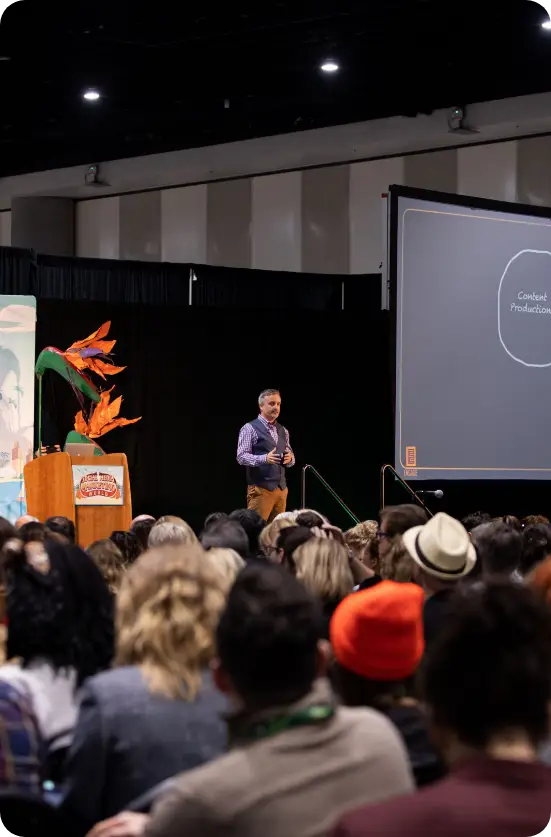 I'm a Strategic Video Expert With a Track Record of Turning Video Producers Into
Impactful

Video Strategists
My passion for filmmaking was passed down from my grandfather to my father, and from my father to me. Add on a career as a former teacher of film and media and it's fair to say video marketing is in my DNA.
A look at my CV will tell you I'm an online video strategist, digital marketer, video producer, international keynote speaker, entrepreneur and founder of Innovate Media – a video production and online video strategy agency. But what makes me different from other real-world video experts isn't what I've done… but what I can do for you.
Whether you create videos for yourself or for your clients, great content isn't simply about "looking good" or ticking basic "best practice" boxes. Great video solves problems and positions you as a trusted expert able to deliver real-world results no matter what industry you're in.
Whether you're a business owner, a creative agency, a marketer, or an entrepreneur, online video is a powerful way to reach and influence your audience… but odds are you already know that, right? If you're looking to maximise reach, drive engagement and enjoy critical conversions with effective video strategy that address real business objectives, that's where I come in.
How Can You Trust That I'm an
Expert

in Video Strategy?
…because my video strategy frameworks have generated
more than $5 million

for video businesses like yours and driven

250,000+ podcast downloads

.
I get it. There's no shortage of resources online to help you create more impactful videos, so why choose me?
When you're struggling to stand out in your niche, the same tired, cookie-cutter approach might help you make shinier videos, but it won't help you engage, connect and convert the way you want.
I've helped generate millions for video producers looking to deliver better results for their clients because I believe in a simple truth – when your clients win, you win. With my ability to simplify video strategy and apply strategy-first thinking from conception to cut, you'll feel confident selling strategy-first services so you can bring in repeat (and high-paying) jobs, attract retainer clients and scale your business on your terms.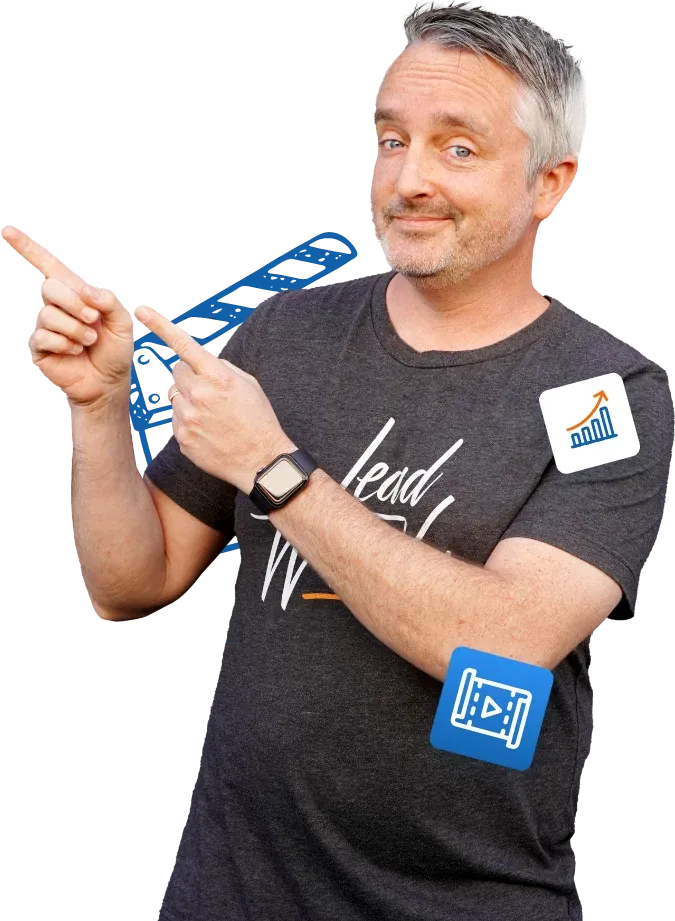 Together, We're Going to Turn YouInto a
Highly Sought

After Strategy-First Video Producer…
… But First, a Look at
My Journey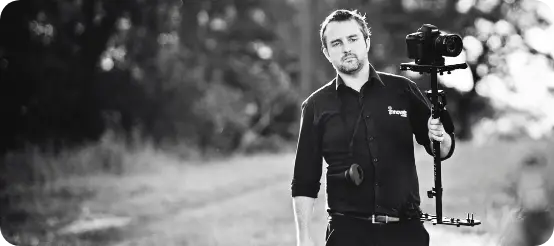 One chapter ends, another begins. As a former high school film and media teacher, education has always been a central part of who I am and what I do. After a fulfilling career in the classroom, I wiped the chalkboard clean and left to start my own video production and online video strategy agency – Innovate Media.
With the belief that video isn't just about creating content, but a vehicle to get results, I launched the Engage Video Marketing blog as a passion project to deep dive into video strategy and share what I've learned through my video production company. Every blog was a chance to share my knowledge and provide value for videographers struggling to stand out and sell their services.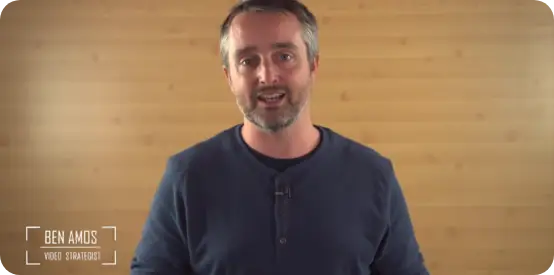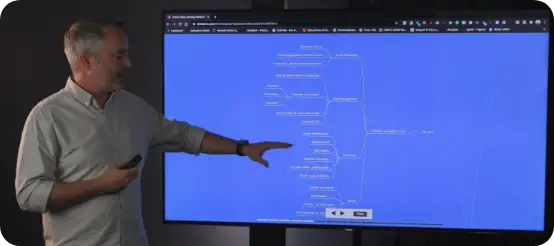 A milestone year, I created the Online Video Strategy Blueprint as a framework to share video strategy best practices with my internal team. As a visual representation of the seven core elements of effective video strategy, I quickly saw the potential of this blueprint which would later become a key framework taught to hundreds of emerging and experienced video strategists around the world.
Looking for even more ways to provide value, I jumped on the podcasting bandwagon with a focus on storytelling. After 50 episodes, the podcast was rebranded to become the Engage Video Marketing Podcast. What started off as a way to share my expertise would later go on to deliver 250,000 downloads and 250 episodes (and counting).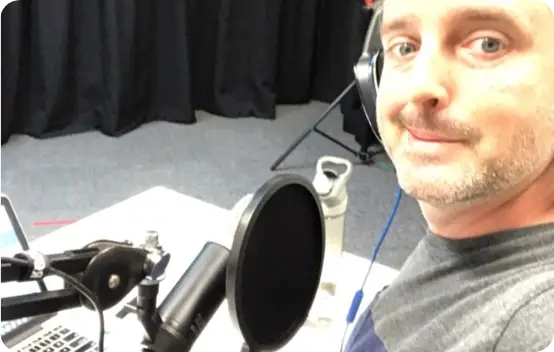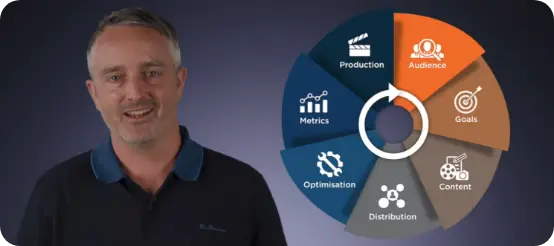 Class is (back) in session! My first online program launched with 8 beta students in the Online Video Strategy Blueprint. Taking everything I'd learned as a former teacher and current video strategist, this program went on to support over 150 students over 4 years before evolving into the current Video Strategists Masterclass (VSM).
After years of sharing my video strategy knowledge in programs and podcasts, I took my expertise to the stage with speaking gigs at the Lift Brands National Summit, Click Engage Convert Conference, Click! Digital and more. I was also lucky to sit on the other side of the mic as a featured guest on some of marketing's biggest podcasts including the Social Media Marketing Podcast (Social Media Examiner), and the Youpreneur FM Podcast (Chris Ducker).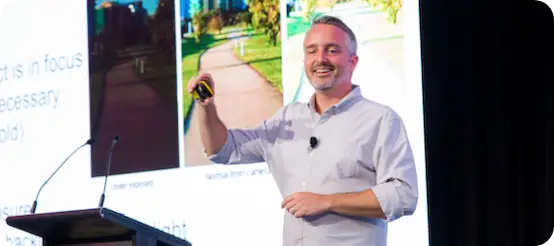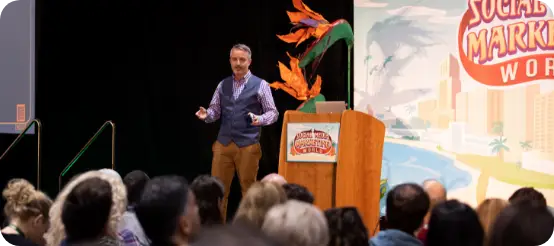 Another big year (in more ways than one), I was honoured and privileged to be asked to speak at the world's largest Social Media Marketing Conference. This opportunity to share my knowledge with a global audience came with a sting in the tail as soon after my speaking gig the world was shut down due to Covid-19.
With more people consuming video content than ever through lockdowns and changing video habits, I found a way to support video business owners towards reaching their goals with a small group, high-impact mastermind environment. Built on the learnings of my previous courses and programs, the Strategy Board Mastermind allowed for like-minded business owners to come together and support each other towards success.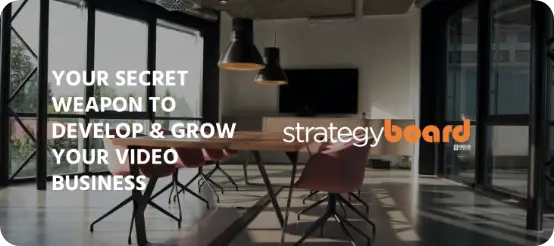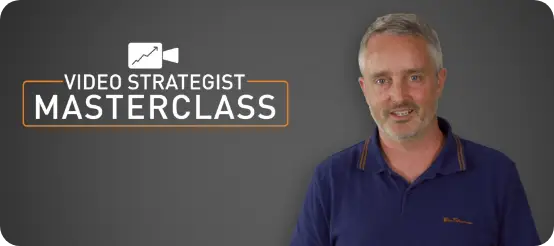 A year of huge change. I revised, re-worked and relaunched all of my programs and Masterminds to create the Video Strategists Masterclass (VSM). Available as a course only or with accreditation, the first round of Accredited Video Strategists were awarded. My lifelong passion for video production and career as a Video Strategist culminated here to help video production business owners stand out, deliver strategy-first services, and make more money.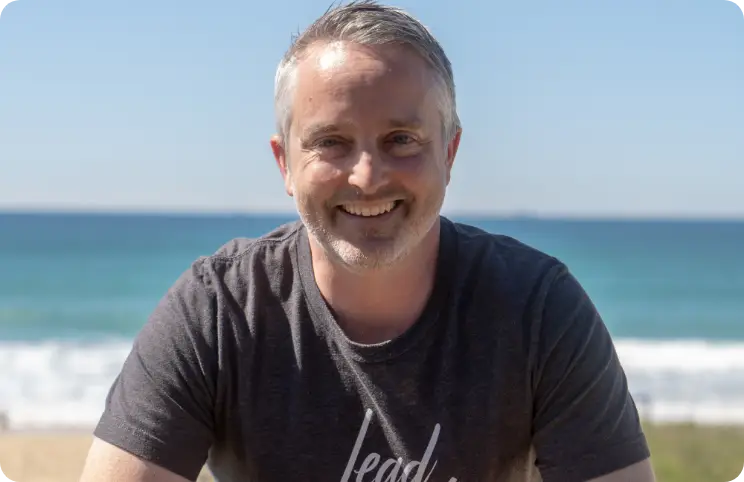 A literal lifetime since I first picked up a camera, my passion for video continues. No matter who you are or who your videos are for, the constant goal remains the same – strategic videos get results.
The Engage Video Marketing name has helped countless business owners through blogs, podcasts, Masterclasses, courses and industry-leading accreditation programs. Whether you're looking to grow your business, deliver greater impact for your clients, sell more products or market yourself, Engage Video Marketing could make this a game-changing year for you too.
Are You Ready to Go From "Just Another" Video Producer to
Confident

Video Strategist?
If you're looking to grow your business by selling strategy-first video production that will generate results for your clients (or their clients), then learn more about the Video Strategists Masterclass (VSM) and Accreditation program today!