Are you looking for ways to better leverage video in your B2B marketing and sales in 2022?
Well, I've recently come across an infographic from Vidyard and it's called The Roadmap to Using Video in Your ABM (Account Based Marketing) Strategy and it got me firing on all cylinders.
I want to share more about this infographic because what this is specifically talking about is using video for account-based marketing. Obviously, what we're talking about here is a larger enterprise level of video marketing, but a lot of what is shared within this infographic is valuable for B2B marketers. What I'm particularly wanting to do here is to break down I guess, specifically the opportunity that I see here in as a video producer or a video strategist, how you can actually tap into some of these ideas to add more possibilities for selling more of your services to your clients, or really better serving your clients. The infographic is fairly long but it goes into some good detail as well.
First of all, the way I want you to think about this idea of account based marketing is that it's about reaching the humans, right? Even at an enterprise level in B2B, it is still humans that are making those decisions. So, recognising that that human is going through their life in their business with their own pains and their own struggles and their own things that are holding them back from achieving the outcomes that they want in their business, in their life and in their career. If you can show up for them in video, in a way that makes the information that can help their life better, i.e. your product or service that you sell and make that accessible to them, then that's a really immediate win, right? That's a really clear way to cut through the noise that most people are impacted upon so often in their business and in their career as they go through things.
Video for Cold Outreach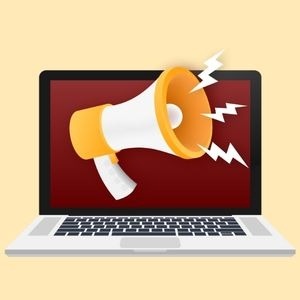 The first type of video that the Vidyard infographic suggests is video for cold outreach. When we're talking about cold outreach, I mean, we're all familiar with the idea of cold calling, right? So trying to pick up the phone and gets someone on the phone and try and sell them something, and if you're like me you hate that, right?
Cold outreach with video is where you're using a customised video message, one to one to a key decision maker. So doing your
research first, and then creating an asynchronous video message. The opportunity here, I think as video strategists is to actually work with your clients to upskill them. I'm sure you are familiar with the idea of personalised video messages messaging in the sales process, but where I constantly see people failing in this is the sales teams don't actually have the knowledge and the ability to confidently use the tools that they have, like their webcams and their smartphones to produce content that they're proud enough to put out there in their prospecting.
This often comes as bit of a surprise for us as video producers or video marketers, because we're familiar with video creation tools. But for example, right now I'm working on a project with a pharmaceutical company to train 16 of their sales team who are trying to reach healthcare professionals in this increasingly difficult time to be face to face with their healthcare professionals. And it's actually really exciting to me to see the difference that a small bit of training and a workshop that we ran can help in getting people more confident in using their smartphones to record video and think about things like lighting and framing and audio and all those simple things. So, there's the opportunity there for video strategists is to think about running some training or better educating your clients, on how they can use video better for prospecting.
Video Email Nurtures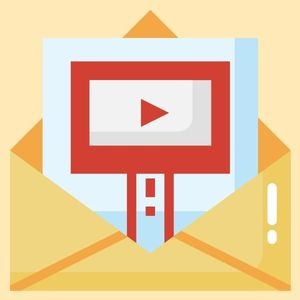 Moving right along, let's talk about video email nurtures, which is the next one in the infographic. Vidyard refers to this as sending a series of video emails to targeted accounts based on recipients behaviours. So using your CRM and having them, or your email software and basically serving them more video that nurtures them towards making the decision to take the action that you want them to take. A simple way to build this into your service as a video strategist or a video producer is to actually offer for your clients the development of a video email course. When I refer to a video email course, it's a video course which is released via a series of sequential emails using an email service provider like ConvertKit that I recommend and that we actually use.
You can build a list and an optin form, and then a series of videos can be produced that are sequentially delivered out based on a period of time – that might be over 3 days, over 5 days, over a week, which are designed to nurture a prospect through to better understanding the service that you provide or the result that you can help them achieve with their product or service. So, really easy thing that you can actually work to implement with your clients, a video email course.
Retargeting Accounts with Videos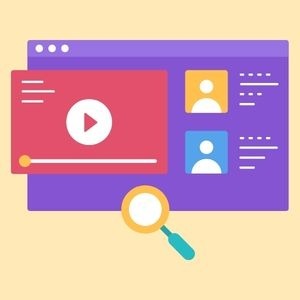 The next one is retargeting accounts with videos. This is talking about launching retargeting ads, so paid ads using video, which hits specific key people based on their behaviour or their interaction with your business or with your content before. In simplicity, it's about using a retargeting pixels, whether this be Facebook, Instagram type ads, or LinkedIn ads. And then if people have displayed a certain action, like they've landed on a certain page of your website, then you know that there are warmer prospects, so you can send them different types of content. Now, this is a more of an enterprise level, which requires obviously significant ads spend, or at least an ad spend that you can control in a specific way. What you want to be careful of here is burning ad dollars, like throwing ad dollars at leads that are the wrong leads. So definitely seek some advice when implementing this retargeting process. But the way the opportunity I believe is here for video strategists or video producers is in actually taking the time to understand video ad funnels.
Understand the retargeting process, develop that into a strategy that you can clearly present to make the case for paid video ads. Build a relationship with a paid video ad expert, a third party company that you can actually refer to because I don't usually expect or recommend that as a video strategist or as a video producer that you are, I don't expect you to become the paid video ads expert, but building a relationship with those companies. We have two that we regularly refer to in my agency based on the the scale and the budget for the client. And we have built those relationships that we can be the strategist, and we can hand off the management and the implementation of the ad strategy to those experts. Don't be overwhelmed by this, but upskill yourself, learn about it, and then implement that into your business.
Scalable Types of Videos
The infographic from Vidyard goes on to talk about the goal of is always to scale when it comes to enterprise or B2B video marketing. I want you to think about how you can use these next 5 ways that are suggested here to actually scale your B2B video marketing efforts, because where it fails is if a business invests in like one strategic video, and then that's all that they do, because then they don't have time or they don't have the manpower, or they just don't implement the video to see the results. So where you can strategize for scale, then that can be the sweet spot.
1 Account-Level Personalised Video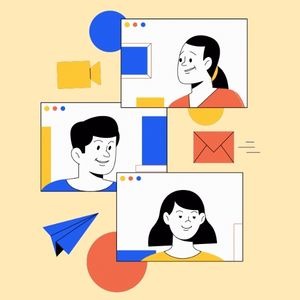 Account-level personalised video, which is the idea of instead of a one to one video messaging approach that we talked about with prospecting videos before, the idea of reaching multiple recipients across an account. So across a particular organisation by creating account specific personalised video. So this is giving the idea of personalisation, but it's more specific to a particular account. You're not having to do it for individual people, but instead an individual account. Now I want to take this a step further for you as B2B video marketers or video strategists or video producers, working with your clients and suggest the idea of pitching to a prospect or a client of yours, the idea of creating video content that is industry level specific personization.
In many cases, it's an easier idea to understand how you can create roughly the same video script about a product or a service, for example, but personalise it for industry. So for example, if you are working with a client, financial planner. So, they do financial advice and they would have a number of different types of people who they would have on their ideal target audience, right? So that financial planner might be targeting young couples, they might be targeting investors moving towards retirement, or people in retirement looking to maximise their retirement income. So different messages need to be pitched by that company in order to land that business. As a video producer or video strategist, I would be going to that client and saying, let produce landing pages for each of those target audiences, those different demographics. Let's produce three versions of the video, which is basically the same content, but with a slightly different angle. A different lead in different use of language, but basically the same outcome of trying to explain more about our services and our product. And then that way, by being industry specific, you're going to land much more clearly with people. And as a video producer, little bonus here, we actually are able to pitch 3 videos to a client rather than just one. So, think about that.
2 Customised Playlists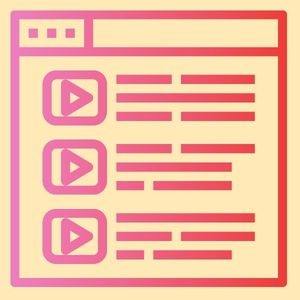 Next one here is customised playlists. This is the idea, particularly in sales, where you can actually build (using a tool like Vidyard, YouTube or Vimeo) customised playlist, which are different marketing videos or conversion-based videos which will answer different key questions that a prospect might have. By sending a playlist, rather than just one long video that tries to answer all the questions, they're able to self-select the information that they're looking for. However, the idea of customising a preexisting playlist here I think, is really smart and something that we haven't done a lot of, but I'm gonna take away from this infographic that Vidyard have shared, which is the idea of creating a personalised intro and perhaps a personalised outro to that playlist. So that's about, maybe you've got a standard playlist that you send people to with your standard FAQ videos for example, but can you produce a personalised video for a particular prospect based on their particular challenges, right? So maybe you've had an initial call with a prospect and you kind of understand the challenges that they face. And then can you produce a personalised video that calls them out and says,
"Hey Ben, thanks for the call today. It was really interesting to learn more about your business. In this playlist (that you linked for), you'll find these key videos and I know they're going to answer the questions that you have about X, Y, and Z. So, I encourage you to go on click through the playlist, watch the videos that are relevant to you and reach out to me if you've got any questions."
So, a simple script like that personalises the use of that playlist, which I think is super cool and we're going to implement more of that.
3 Gifting and Direct Mail Videos
The next one here is Gifting and Direct Mail Videos. Now, this is not something we've done a lot of, but I kind of like where Vidyard is going with this. This is the idea of when sending a gift or direct mail, how about creating a one-to-one video to send to the recipient of the gift? So, make a warm, personal introduction and let them know that the gift is coming their way, hint here, that they share is the idea of including the gift within the personalised video that you sent. So they can kind of see what's coming their way actually physically in the mail. So I really like this, particularly for larger accounts, or perhaps it's about further developing relationships after say a conference or a trade show or an event or something like that. I really like this idea of personalising and using video in that way as well. And definitely using a tool like Vidyard, you're able to ideally track the engagement with that video and then follow up once the recipient has received the gift and watched the video, so really work to build that relationship. I love it.
4 Follow-up Demo Videos
The second last one here is the idea of follow up demo videos. A demo video, I'm sure we're all familiar with demonstrating how your product works, but how can you actually use a video to follow up on that demo video. So perhaps it's about diving into specific use cases. So you've got your standard demo video, but then I love the idea of actually personalising a video that shows a prospect specifically how it might work for their purpose. By personalising things throughout the sales process and using video to do that, you can be much more targeted with your B2B marketing. So I really like that. Vidyard also with their screen recording and capture tool enables you to record personalised, one to one kind of demonstrations showing your face on screen as well, that just walks people through their own use case of the software. I really love that as well.
5 Marketing Produced Videos
And finally, the last one here is marketing produced videos. When we're talking about marketing produced videos, this is all the other types of video that you likely are producing as a video producer. And we can integrate those with Vidyard into different places within the sales and conversion process. So if you are producing brand story videos, if you're producing client stories, testimonial videos, all those videos that as a video producer you're likely producing anyway, working with your clients to think about how they can integrate that seamlessly into their sales process. So not just at the top of funnel for marketing, but instead helping them understand and how to better utilise those video assets that they've got to nurture those prospects, get those sales across the line. That's where the role of the video strategist I think is so important.
So, as I said that infographic from Vidyard really fired off my brain on all cylinders, and hopefully it's got you as well. So the link to that infographic, if you would like to see it in more detail is https://www.vidyard.com/blog/abm-strategy-roadmap